National Primary Route N4
The N4 is the main road artery that links Dublin with the North West of Ireland. Offering an excellent road link between East and West the N4 enjoys motorway status for considerable amount of its length.
N4 West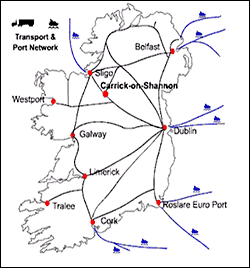 – Sligo (30 Minutes)
– Donegal (1 Hour)
– North Roscommon (10 Minutes)
N4 East
– Dublin (2 Hours)
– Longford (25 Minutes)
– West Meath (1 Hour)
– Kildare (1.5 Hours)
R280
– Cavan (30 Minutes)
– Northern Ireland (45 Minutes)
– Belfast (2 Hours)
Bus Eireann / Irish Rail
Bus Eireann provides a service four times a day to and from Dublin, with national connections throughout its network. Carrick-on-Shannon is also serviced by mainline rail, with Iarnrod Éireann offering several trains daily to and from Dublin. Within walking distance of the town centre, this line has undergone significant investment recently, ensuring a more pleasant and comfortable journey, and new rolling stock is in place.
Irish Rail
Bus Eireann
Private Coach Services
Private coach services provide regularly scheduled transportation to key locations such as Sligo, Galway, Athlone, Limerick, Longford, Mullingar and Dublin. Carrick-on-Shannon enjoys an excellent taxi and mini-bus hire base.
Taxi Services
We have a number of Taxi Services available in Carrick on Shannon please click on this link for some of those providing a service http://www.mycarrick.ie/tourist-info/taxi.
Airports
Ireland West Airport Knock
In terms of air access, Carrick-on-Shannon is just 50 minutes drive from Knock International Airport that was voted Ireland's best regional airport 2004 by the Chambers of Commerce of Ireland. Knock International Airport offers a range of flights to over 20 destinations including scheduled routes to London, Birmingham, Manchester, Nottingham East Midlands and Liverpool. There is also a range of new sun and snow bound charters plus a number of one-off flights to specific holiday and city destinations including flights to South Africa.
2014 was the busiest year in the airports history with passenger numbers reaching 703,318 for the first time.
Ireland West Airport has achieved numerous Awards:-
 Sligo Regional Airport (45 minutes by road / rail), Shannon International Airport (2.75 hours by road) and Dublin International Airport (2 hours by road / rail) are also readily accessible.