Tourist Information
Situated just two hours from Dublin and Belfast. Carrick-on-Shannon (Cora Droma Ruisc – the weir of the marshy ridge) has become one of the most progressive centers of diverse quality commercial activity in Ireland. Numerous prestigious companies, big and small have chosen to locate here not least because of the quality of life, education, infrastructure, enthusiastic young work force, quality affordable residential development and support services but also because of incentives from our local authority and various State and Semi-state development agencies.
Leitrim's population is estimated at 32,044. Source (CSO – 2016). Carrick is the administrative centre of Co. Leitrim and, with a population of c. 5,000 residing on both sides of the River. Carrick's actual size is often a surprise to people because official CSO figures do not recognise the dual-county location of Carrick-on-Shannon.
A bustling town, Carrick-on-Shannon is now one of the most popular inland resorts in Ireland. It is situated on the shores of the majestic River Shannon and is both the county town of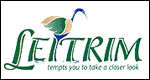 Leitrim and the cruising capital of the Shannon. From Carrick-on-Shannon or Carrick as its known locally the beauty and wonders of the River Shannon & Shannon Erne Waterway awaits visitors from near and far. With 750km of cruising available the town is ideally situated at the gateway to both the River Shannon to the south and the Shannon-Erne Waterway to the north. Pleasure cruisers available for day trips are on offer for those who are not taking a cruising holiday. Carrick is also widely acknowledged as an Anglers paradise and within a 10km radius of the town there are no fewer than 41 lakes. A celebrated angling center Carrick-on-Shannon also boasts fantastic fishing opportunities for the amateur and professional fisher with many species of game and course fish available within a short distance of the town.
Carrick offers a multitude of opportunities for every visitor with a wide range of quality Restaurants, Accommodation, Entertainment and Shopping.
For further information on entertainment in Carrick-on-Shannon please visit MyCarrick Whats On 
Carrick is renowned for its friendly people, attractive streetscapes, bustling marinas and traditional shop fronts, visitors are assured of a warm welcome and an enjoyable stay in this picturesque town.
More information and everything you need to know about Carrick-on-Shannon click here..   and to check out The Dock events click here