Carrick Chamber appoint new Chief Operating Officer
Posted on : October 13, 2023
Carrick-on-Shannon Chamber of Commerce are pleased to announce the appointment of Mr. Brendan Dee as their new Chief Operating Officer.
The Carrick-on-Shannon native had a long and successful career with Masonite Ireland in Procurement spanning over 25 years, working with Masonite plants in Europe, Asia and America and working with suppliers globally.
A graduate of ATU, he started his career in Aer Lingus in Dublin Airport but the pull of home brought him back to Carrick-on-Shannon when Masonite was established in 1996. 
Brendan was also chairman of Carrick Carnival for 6 years, so he brings a wealth of knowledge and has great connections in our business community.
His reputation for being organized goes before him. He is certain to bring these abilities along with his good humour and networking ability to the Chamber.
First on the list of tasks is our Christmas Lights and Carrick Christmas activities. Brendan has already started the Go Fund Me page for the lights and is working with our committees in getting the necessary elements and people in place.
The Chamber are delighted to have Brendan on board and wish him every success in this position.
 Source: Leitrim Live, by Donal O'Grady, P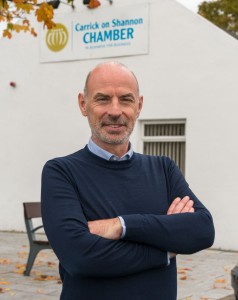 icture by Gerry Faughnan