Gallagher Auctioneer Ltd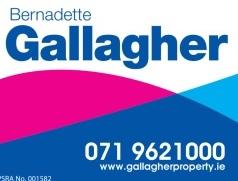 Gallagher Auctioneer Ltd is a trusted property business in Carrick on Shannon. Director Bernadette Gallagher MIPAV prides herself in matching the property to the client and specialises in selling property in The Shannon/Erne area. She has been in the property business in Carrick since 1995 and deals in commercial, residential and farm lands.
Yvonne Noone has been with the business since 2005 and specialises in Sales and Rentals matching customers demands to market availability and can be contacted on 0868382956.
She has a thorough knowledge of the market and a keen eye for shifting trends.
If you are interested in selling property or seeking advice call at 07196 21000.
The opening hours are:
*9.00am – 5.30pm Monday to Friday
*10.00am – 1.00pm Saturday
* Open through lunch